John Manville Certified TPO Roofing Systems
Highly reliable, cost-effective systems.
A Johns Manville TPO roofing system gives you a reliable, cost-effective roofing solution. Johns Manville TPO roofing system membranes are reinforced with a polyester fabric and manufactured using an ultraviolet-resistant thermoplastic polyolefin formulation. TPO roofing comes in several thicknesses and has been designed for ease in installation. And for your convenience, systems can be installed fully adhered or mechanically fastened. We also offer a complete line of accessories, sealants and adhesives to help ensure a waterproof installation.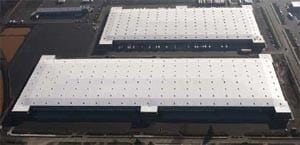 Johns Manville Certified TPO: Formulated for Success
Cost-effective
Durable
Efficient
Environmentally sound
JM's TPO roofing materials are formulated using the best available technology and designed for long-term roof performance in all conditions. We reinforce Johns Manville TPO roofing system membranes with polyester fabric to provide excellent wind uplift resistance, puncture resistance and finished physical properties. Johns Manville TPO roofing system formulation was developed to allow for extreme pliability, flexibility and weldability during installation. Along with such installation advantages, Johns Manville TPO roofing system's state-of-the-art formulation helps to resist extreme weather conditions, including ultraviolet radiation and high surface temperatures
Johns Manville TPO Roofing System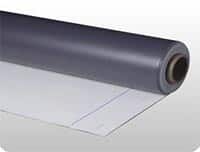 JM TPO thermoplastic polyolefin (TPO) membranes are reinforced with a polyester fabric and designed for use in mechanically fastened and adhered roofing applications.
TPO is the nation's fastest-growing commercial membrane roofing system. In fact, it has consistently continued to outpace other roofing materials due to its ease of use and specifier confidence.
TPO takes less time to install, requires minimal maintenance, and its thermoplastic makeup and heat-weldability allow contractors to make repairs with ease.
The Johns Manville TPO Advantage

The Johns Manville TPO Advantage is now stronger than ever! The thickness, ozone resistance, reflectivity, consistent thickness across the sheet, variety of product offerings, maintenance of product properties after heat aging and overall weather resistance are some of the best in TPO producs on the market. Johns Manville TPO clearly has the advantage over other products on the market!
Exceptional Ozone Resistance
Johns Manville building scientists worked with polymer chemists to understand and apply breakthroughs in chemistry that have allowed Johns Manville TPO to utilize the industry's best UV formulation. The Johns Manville TPO formulation was developed to maximize resistance to ozone degradation.
Solar Reflectance Index Exceeds the EPA Standard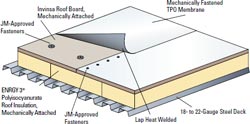 Johns Manville TPO is Energy Star® compliant with an SRI of 101 that exceeds the EPA standard. Some manufacturers offer TPO products that do not even meet this criteria. A high SRI also means additional cost savings for you, the owner. And, one more selling advantage for you as more and more building projects demand the most energy-efficient products on the market.
Consistent Thickness Compared to Competitors
Johns Manville TPO measured 10' wide sheets from other brands at 105 data points across the width of the membranes. Johns Manville TPO results indicated that our standard deviation is an average of half of the deviation found in the closest of two leading TPO membrane brands.
Consistent thickness means consistent quality that assure excellent weathering, workability and an aesthetically pleasing appearance. Johns Manville TPO strict tolerances are especially crucial to maintain the integrity of the TPO roofing edge thickness.
Seam Strength 50% Higher
Johns Manville TPO has successfully maximized the seamed strength and provides the greatest flexibility in varying weather conditions. With a seam strength averaging 50% higher than the market average, Johns Manville TPO can reduce cold welds and increase productivity. Better productivity equals a competitive advantage.
Highly Engineered for Tear Strength and Uplift Resistance

Johns Manville TPO is strong and flexible and is supported by polyester reinforcement. Our membranes have superior strength compared to competitors. The Johns Manville TPO reinforcement are significantly higher which results increased puncture and tear resistance. Most importantly, the reinforcement allows for efficient load transfer in mechanically fastened systems and installing a membrane more resistant to damage equals fewer callbacks.
John Manville PVC Certified TPO Roofing System
Standing the test of time.
For roofing materials engineered to withstand the test of time even under some of the toughest conditions, look no further than Johns Manville PVC roofing systems. Johns Manville PVC is a flexible, thermoplastic membrane manufactured using an ultraviolet-resistant polyvinyl chloride. Johns Manville PVC ensures retention to deliver a pliable and durable sheet with excellent weathering characteristics and resistance to harsh chemicals and industrial pollutants. Johns Manville PVC roofing membranes are an ideal long-term solution for roofs that demand high performance at a lower life cycle cost.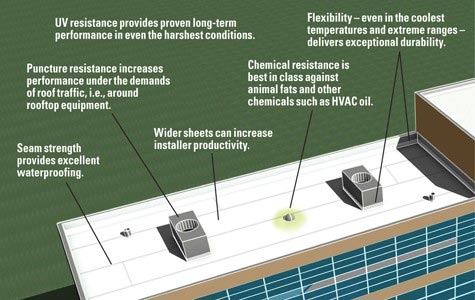 Johns Manville PVC Roofing Systems
Advanced Solid Phase Polymer Formulation
Uses the optimal amount of DuPont™ Elvaloy® KEE (Ketone Ethylene Ester) polymer to ensure plasticizer retention, extend roof life, and reduce maintenance costs.
Patented Aramid-Reinforced Edge
Aramid fiber is woven into the fastening side of all full rolls of PVC membrane.
Non-wicking Reinforced Polyester Scrim
Our fully integrated manufacturing process adds tensile strength and toughness. Due to the non-wicking edge, sealant is not required.
Excellent Chemical Resistance
JM PVC is inherently resistant to oils, air conditioning coolants, fuels and grease.
Long-Term Durability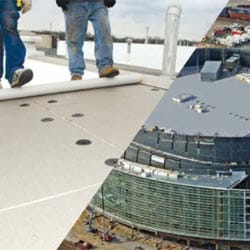 The Johns Manville PVC formulation uses a solid plasticizer that bonds with the PVC to provide consistent plasticizer retention. This maintains high flexibility and durability throughout the life of the roofing system.
Wide Array of Applications
Polyester reinforcements allow the PVC membranes to be used in either mechanically fastened or fully adhered systems. This provides building owners a broader range of solutions tailored specifically for the building site and weather conditions. Other PVC membranes reinforced with fiber glass have low tearing strength and may be used only in fully adhered systems, greatly reducing roofing options and increasing cost.
High Manufacturing Quality Standards
The Johns Manville PVC formulation has been produced by the same manufacturer for over 25 years, with proven field performance. Johns Manville's product engineers are dedicated to ensuring quality control, continued testing and the development of innovative and enhanced products.
Lowest Commercial Life Cycle Cost Compared to Other Brands
In a Durability and Cost survey presented by the Roof Consultants Institute, Elvaloy® PVC had a life cycle cost of $0.37/sf/year. Both initial costs and operating costs drive decisions when selecting roofing membrane types, so this information is critical to making an informed evaluation.
Superior Long-Term Solar Reflectance
Roofing membranes that remain white longer have better long-term energy efficiency.
Johns Manville PVC membranes have a three-year reflectivity value of 70% and an SRI (solar
reflectance index) of 84%. Johns Manville PVC is also a viable for solar photovoltaic applications.
Resistant to Chemicals, Oils, AC Coolants, Fuels & Grease
Restaurants and food processors are perfect examples of ideal Johns Manville PVC installations because of the inherent chemical resistance provided by the membrane's chemistry. A study conducted by SGH Consulting Engineers found that PVC with DuPont™ Elvaloy® KEE is the most resistant of single ply membranes.
Strong Guarantees from a Strong U.S.-Headquartered Company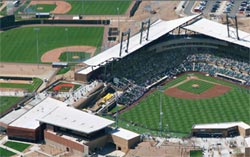 Johns Manville offers the most comprehensive guarantee in the roofing industry. That's the advantage you can expect from a longtime, dependable leader in Johns Manville. Johns Manville PVC: excellent code approvals, lower maintenance costs, labor savings and
roof re-covers extending the life of existing systems. And all this from a company that invests in specialized education and training for roofing professionals, together with a top-notch certified contractor program.
EPDM Roofing Systems
State-of-the-art extrusion technology brings quality and consistency.
Johns Manville's EPDM roofing materials are manufactured using advanced extrusion technology. The result is a membrane designed for superior weatherability through a wide range of temperatures and conditions. The Johns Manville EPDM difference is the level of precision quality control Johns Manville EPDM achieves during the manufacturing process.

The Johns Manville EPDM formulation has been developed to provide excellent ozone resistance and high tensile strength. Johns Manville EPDM membranes provide a quick, clean and cost-effective solution capable of being installed in a wide range of temperatures. Johns Manville EPDM membranes are available in several thicknesses, with or without polyester scrim reinforcement. Wider widths and fewer seams mean Johns Manville EPDM systems can help to improve efficiency during installation. And for your convenience, they can be installed fully adhered, mechanically fastened or ballasted. Johns Manville EPDM also offers a complete line of accessories, sealants and adhesives to help you get the job done right.
Johns Manville's EPDM Roof Systems
Membrane: Nonreinforced, cured EPDM
Fully Extruded: Produces fewer air voids, more uniform thickness and smoother sheets
Vulcanization Process: Produces a redundant waterproofing monolithic membrane.
Polymer Formulation: Performs in extreme temperature climates and withstands differential movement.
UV-Stabilization Properties: Offers superior ozone and weather resistance delivering one of the longest service lives available.
Technical Expertise: Backed by 30+ years of EPDM experience and installations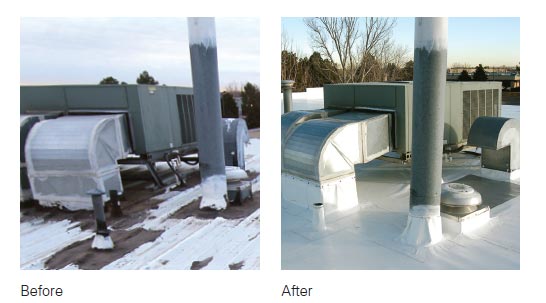 THICKER
Tests indicate that competitors' sheets are consistently at the lower end of the ASTM tolerance while JM sheets are much closer to a true 60 mil (ASTM allows +/- 10 percent variation in sheet thickness). Thicker sheets deliver a longer life cycle. We give you more roof for your money.
CLEANER
Cleaner sheets take less labor to prepare. A cleaner surface will allow the tape to stick better, which means a stronger seam and no contamination.
SMOOTHER
The smoother surfaces of these high-quality sheets come courtesy of using the most advanced extrusion technology available. Eliminating defects (pockmarks and air inclusions) with a consistent surface finish reduces the roofing membrane's weak spots.
BUR Roofing Systems
Highly reliable and redundant systems.
Johns Manville is not only a pioneer in developing BUR (Built-Up Roofing) systems, but Johns Manville created the very first BUR system in America more than 150 years ago. Johns Manville's continuous investment in developing materials and manufacturing techniques has taken that heritage to a new level, and today nearly one billion square feet of Johns Manville BUR systems are under guarantee.

Why use Johns Manville BUR (Built-Up Roofing) systems over other products?
Because few other systems are so long lasting, durable and worry free. With Johns Manville BUR systems, the highly reliable waterproof membrane is field fabricated with layers of bitumen, alternating with plies of reinforcing felts. The redundant layers give it exceptional resistance to water and weather. Johns Manville BUR systems also manufacture a complete line of fiber glass felts, including ply and base felts, and mineral-surfaced cap sheets.
Johns Manville Built Up Roof System Time Lapse Install
Energy, Environment and Roofing Engineering
Think of Johns Manville when you think of sustainable building – creating structures that preserve the natural environment, use less energy, last longer and are more comfortable to be in and around.
Many factors affect the indoor temperature of a building and ultimately our comfort as
building occupants. Environmental factors such as sunshine, clouds, humidity and wind speed all impact the building envelope, causing a temperature change. The first line of defense for a building is the material selection and placement in the building envelope.
Highly infrared emissive and solar reflective roofing surfaces can help save money in air-conditioning costs because less heat is transferred into the building. Increased insulation also can mitigate this heat transfer, translating into less cooling to keep people comfortable. This is especially true on hot afternoons in peak energy periods, such as 3 p.m. in the middle of July on a 90°F (32°C) day. Lower peak usage helps to reduce the chance of rolling power outages, which means businesses stay up and running.
Role of Reflectivity and Emissivity in Cool Roofs
To better understand the concept of cool roofs, you need to understand reflectivity and emissivity. Conceptually, the sun's solar radiation affects a product's reflective and emissive properties.
Energy-efficient material selection will impact indoor environmental comfort, which results in lower energy consumption and reduced demand during peak periods.
Reflectivity
Solar reflectivity (or reflectance) is the fraction of the solar energy that is reflected by the surface (i.e., roofing membrane) back to the sky. White membranes have the highest solar reflectivity, while black membranes have the lowest.
Emissivity
Infrared emissivity (or emittance) is a measure of the ability of a surface to shed some of its heat (in the form of infrared radiation) away from it (i.e., roofing membrane). High infrared emissivity helps keep surfaces cool. This property can make a significant difference in controlling the "urban heat island effect." Metallic surfaces have a low infrared emissivity.
Solar Reflective Index (SRI)
The Solar Reflective Index is a measure of the constructed surface's ability to reflect solar heat, as shown by a small temperature rise. It is defined so that a standard black (reflectance
0.05, emittance 0.90) is 0 and a standard white (reflectance 0.80, emittance 0.90) is 100. SRI combines reflectance and emittance into one number.
Johns Manville Certified TPO Roofer: Your Commercial & Industrial Roof Solution
Johns Manville TPO offers one of the most durable, energy efficient, and cost effective commercial and industrial roofing system on the market. Culver Roofing is Texas' premier TPO roofing contractor specializing in Johns Manville TPO roofs. Fill out the information below, or call us at 832-671-1357 and let one of our roofing specialist talk more with you about your TPO roofing needs.