Prefabricated Duro-Last Roofing Systems in Houston, Texas
Duro-Last Certified TPORoofing Systems has been an industry leader in producing custom-fabricated single-ply roofing systems, designing each roof to fit building specifications exactly.
For building owners and home owners, Duro-Last's custom fabrication of single-ply roofing systems offers several advantages:
Studies of roof failures show that most problems occur because of installation errors, particularly at changes in the plane on the roof, such as projections, curbs, drains, perimeters and adjoining walls. Duro-Last prefabrication eliminates up to 85% of on-site, rooftop membrane seaming, greatly reducing the likelihood of installation errors and leak problems in the future.
Prefabricated Duro-Last roofing systems are easier to install throughout the year, even during adverse weather conditions. Installation time is reduced our Duro-Last installers can get on and off the worksite quickly. The relatively small amount of Duro-Last roof membrane seaming is completed with hot-air welding methods, which are virtually unaffected by cold or damp weather conditions.
Single-ply roofing prefabrication dramatically reduces waste, both during the manufacturing process and installation. Our Duro-Last roofing experts will orders the exact amount of roof membrane necessary for roof coverage, rather than a collection of materials that may not be completely used.
Prefabrication also appeals to engineers and architects who would like to address a particular structural or aesthetic design problem. Panel sizes, shapes and colors can be pre-planned and prefabricated to achieve desired visual results.
Prefabrication allows our Duro-Last roofing contractor to take complete control of a Duro-Last roof installation in a highly unstable environment. Our Duro-Last roofing experts must plan their roofing projects carefully, and are rewarded with greater worker productivity, a higher-quality installation which leads to a highly satisfied customer.
In addition to being custom prefabricated, the Duro-Last single-ply roofing system is durable, energy-efficient, installed with no disruptions, code compliant and backed by the industry's best warranties. The Duro-Last roofing system is the best long-term investment you can make in your building.
Cool Zone® – Cool Roofing System
XXXXX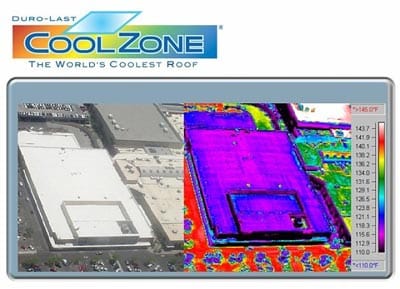 In the commercial roofing industry, reflectivity and cool roofing has been the dominant discussion point for several years, and the Duro-Last® Cool Zone® roofing system has set the standard for single-ply roof reflectivity and the resulting energy savings. Now, terms like sustainability, cool roofs, and cool roofing are receiving a lot of attention, and once again, Duro-Last is setting the bar.
But what does sustainability and cool roofing really mean for building owners, facility managers, contractors, architects, and other specifiers? It means that the design, construction, maintenance, life-cycle impact, adaptive re-use, destruction, and recycling of roofing components must help meet the long-term environmental standards demanded by today's high-performance buildings.
To be considered "sustainable," a roofing system must meet the Five E's of high-performance roofing: Energy, Environment, Endurance, Economics, and Engineering. In each of these areas, the Duro-Last Cool Zone cool roofing system leads the commercial roofing industry.
Duro-Fleece® Roofing Membrane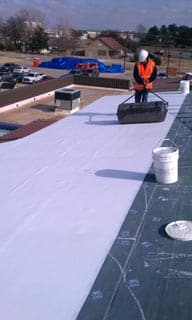 The Duro-Fleece system combines Duro-Last's proven thermoplastic membrane – including an 18 x 14 density scrim and a high-quality, 3.8 oz fleece material that's bound to the underside of the membrane during manufacturing.
The Duro-Fleece can be installed using mechanically-attached or adhered methods. The fleece offers enhanced adhesion characteristics between the membrane and the substrate. On adhered projects, the membrane can be installed using the two-part bead-applied Duro-Fleece adhesive. On fully-adhered projects, Duro-Last's WB II or splatter-applied CR-20 adhesive may be used.
For some applications, the Duro-Fleece membrane can act as a separation barrier, which may reduce project material costs and speed up installations that otherwise would require an additional separator sheet.
Duro-Tuff® Roofing System

Duro-Tuff: the world's best PVC roll goods, backed by the best warranties in the industry. An excellent choice for low-sloped projects that require a long-lasting, energy-efficient roofing membrane.
Duro-Tuff has outstanding properties in terms of film over scrim, strength, wind uplift, grab and tear strength, and wide welding temperature window, and provides great weatherproofing performance.
The Duro-Tuff membrane was engineered to be used with the complete line of Duro-Last's proven, precision-fabricated flashings for curbs, stacks, and parapets that ensure a water- tight fit. Prefabricated flashings are manufactured from standard Duro-Last membrane material and feature a weft inserted scrim that provides puncture and tear resistance, and tensile strength at transitions – the most critical areas of any roof installation.
Dura Last Roof Expert
Culver Roofing Company is a Certified Duro Last TPO roofing expert for commercial Duro Last roofing, industrial Duro Last roofing, and residential flat roof Duro Last roofing. With over 35 years of experience in commercial roofing experience, there is no Duro Last roofing job too big or too small. Please fill out the following form to the best of your knowledge, as this will help expedite the roofing estimate process or Call Us At 832-671-1357 for immediate assistance.