Certified UltraPly TPO Roofing Systems
Suitable for a variety of low-slope commercial roofing applications, Certified Firestone UltraPly™ TPO roofing membrane is a sustainable roofing solution for a wide range of building types.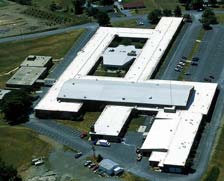 UltraPly TPO membrane also offers design options with panels available in reflective white, tan or gray, which can help reduce a building's cooling requirements. White and tan UltraPly TPO membranes meet the new version of the Energy Efficiency Standards for Residential and Nonresidential Buildings (Title 24). These standards define cool roofs in California to have a minimum three-year aged reflectance of 0.55 and a minimum thermal emittance of 0.75 for low-sloped nonresidential buildings.
White and tan UltraPly TPO membranes are listed with the Cool Roof Rating Council (CRRC), and meet or exceed the new Title 24 requirements for low-slope roofing membranes.
Download UltraPly TPO Roofing Systems Product Brochure
Certified Platinum TPO Roofing Systems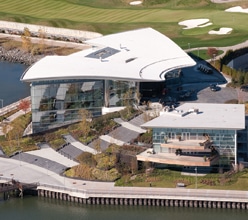 Firestone UltraPly™ Platinum TPO system is a thermoplastic roofing system backed by a 30-year warranty. Comprised of a durable, 80-mil-thick scrim-reinforced membrane, the UltraPly Platinum TPO system can be fully adhered or mechanically attached to Firestone insulation and fastened to a wide range of deck substrates.
The UltraPly Platinum TPO system features Firestone patented Wide-Weld technology to provide the industry's widest field seams and highest mechanically attached wind ratings, while its scrim-reinforced membrane offers enhanced puncture, tear and abrasion resistance. The reflective surface of the UltraPly Platinum TPO system meets ENERGY STAR® standards for energy savings in warm climates, making it an exceptional long-term roofing value for building owners.
3 ENHANCED ENERGY EFFICIENCY
White reflective surface exceeds the EPA's ENERGY STAR® requirements
White, tan and gray are listed with the Cool Roof Rating Council (CRRC)
White and tan are compliant with California's Title 24 Energy Efficiency Building Standards and can be used to gain credits with Leadership in Energy and Environmental Design (LEED®) certification
LONG-LASTING PERFORMANCE
Resists degradation from ultraviolet (UV) radiation and ozone
Guards against erosion from harmful chemicals and microbial growth
Performs at more than three times the ASTM International standard for weathering resistance
SUPERIOR DURABILITY AND STRENGTH
Average thickness over scrim exceeds
ASTM D6878 standard on 45-mil, 60-mil and 80-mil
Provides enhanced puncture, tear and abrasion resistance
LESS ENVIRONMENTAL IMPACT
Firestone's manufacturing plants are ISO-9001-certified and located to provide nationwide coverage
Can add LEED points to the design, construction, operation and maintenance of a commercial building
Proximity of product availability reduces greenhouse gas emission and contributes to energy conservation
Does not contain chlorinated or halogenated components
EXCELLENT WIND UPLIFT RESISTANCE
Firestone Wide-Weld™ TPO seaming technology creates a full-width seam extending on both sides of the seam attachment
ƒProcess allows uplift forces to be distributed uniformly along all edges of the fastening system for improved wind resistance
Extend your roof life – and peace of mind.
In addition to long-lasting performance, UltraPly TPO Platinum Systems deliver:
ƒExceptional 30-year warranty coverage
80-mil thick reinforced membrane
Mechanical or fully adhered attachments
Excellent field seams and high-wind ratings
Chlorine – and halogenate-free components
Exceeds EPA's ENERGY STAR requirements
Variety of warranties including punture, wind and hail
PATENTED WIDE-WELD SEAMING TECHNOLOGY
ƒSuperior strength for high-wind areas
Higher wind uplift ratings than traditional single-weld systems
Full-width seam distributes uplift forces uniformly
Download UltraPly TPO Platinum Product Brochure
Certified UltraBlend TPO Roofing System
The UltraBlend Roofing System combines the strengths of UltraPly™ TPO and RubberGard™ EPDM membranes in a comprehensive, warrantable roofing solution. Using UltraPly TPO
membrane for horizontal roof surfaces and either RubberGard EPDM or RubberGard EcoWhite™ EPDM for vertical surfaces such as parapet walls, the UltraBlend system can help contractors save time and reduce labor costs, while giving building owners the confidence that their roof is covered by durable roofing materials that have withstood the test of time. In addition, Firestone's full line of EcoWhite QuickSeam™ accessories – including flashings, pipe boots, penetration pockets and patches – can add to the ease and speed of installation.
The UltraBlend Roofing System has a number of features, including:
Fast installation of the UltraPly TPO membrane with heat welded seams
Use of either black, non-reflective EPDM or white, highly reflective EPDM on parapet walls
Option to use various combinations of accessories and flashings from both product lines
Excellent flexibility and adhesion in cold weather where its most needed – walls and details
Among the many benefits the UltraBlend system offers are:
Low installation costs associated with mechanically attached UltraPly TPO membrane
Reduced labor costs through the use of Quick Seam accessories
For more information on Certified Firestone TPO roofing systems, fill out the information below, or call us at 832-671-1357 for immediate assistance.